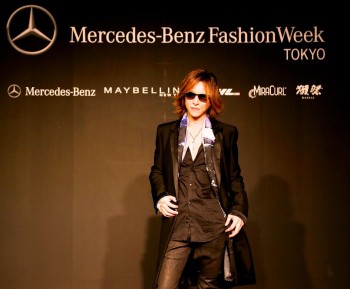 World-renowned instrumentalist, songwriter, producer, and artist YOSHIKI will debut his first collection of "Yoshikimono" at the upcoming Mercedes-Benz Fashion Week in Tokyo this Saturday, October 17th. For Yoshiki, a musician who is active worldwide in several facets of art and culture, kimonos are something very familiar. Even after he had become recognized as a leading artist, there remained in his memory the fact that he had grown up as the eldest son in a family kimono shop that inherited and carried on Japan's traditional aesthetic sense. While engaging from his home base abroad, Yoshiki came to feel anew that the kimono is a monument of Japanese culture of which the country can be proud before the entire world. Intent on introducing the world to the attractiveness of the kimono, as a result of a meeting with Keigo Kano – producer at the established Kyoto woven-goods manufacturer scope Coco – Yoshiki launched his own brand of kimonos, "Yoshikimono."
The brand values tradition yet departs from it to create a fusion with revolution that constitutes an individual creation on the part of Yoshiki. The "Yoshikimono" brand of Kimonos will begin to move on the world stage this coming Saturdayat 9pm Tokyo local time at the Shibuya Hikarie Hikarie Hall A.
For more information on "Yoshikimono" and Yoshiki's many artistic endeavors, visit
www.yoshiki.net
.