shilly-shally
\SHIL-ee-shal-ee\, verb:
to show indecision or hesitation; be irresolute; vacillate.

to waste time; dawdle.
noun:
irresolution; indecision; vacillation: It was sheer shilly-shally on his part.
adjective:
irresolute; undecided; vacillating.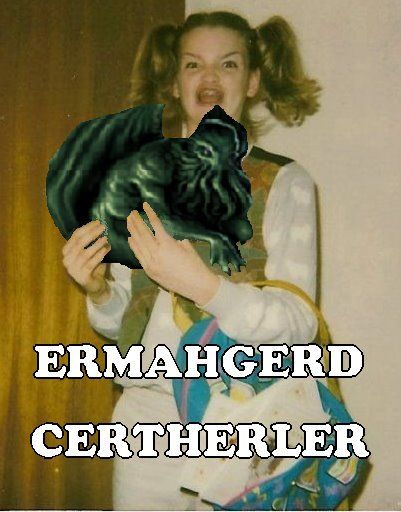 In the great tradition of reduplicating a phrase to infuse it with a dose of levity, shilly-shally comes from the phrase "shall I, shall I." When shilly-shally first entered English at the turn of the eighteenth century, it was spelled "shill I, shall I."
used for internet memes. An obnoxious way to say "Oh, My God" with strong emphasis on the R sounds. Typically followed by other words with emphasis on the R sounds.
ERMAHGERD, ERNSTAGERM (Oh, my god, Instagram)
ERMAHGERD, MER FERCE HERTS (Oh, my god, my face hurts)
Trivia
What served as the trophy in 1876 when dancers Nelly Saunders and Rose Harland competed in the first women's boxing match in the U.S.?
A silver-plated butter dish. Saunders, a boxer's wife, also won $200. The match was held in New York City.
History
Stamp Act: tax was imposed by Britain on the American colonies; it raised intense opposition (1765)

hockey: the first Stanley Cup championship game was played; Montreal's Amateur Athletic Association beat the Ottawa Capitals, 3-1 (1894)

motion pictures: August and Louis Lumière demonstrated the first movies using celluloid film in Paris (1895)

Equal Rights Amendment: was approved by US Congress; it was never ratified by requisite majority of states (1972)

Flying Wallendas: patriarch Karl Wallenda fell to his death from a tightrope between two hotels in San Juan, Puerto Rico (1978)

Hale-Bopp: comet passed the closest to Earth till the year 4397 at a distance of 1.315 AU (1997)
Sir Anthony Van Dyke 1599

Johnny Evers 1883 - Baseball player

Chico Marx 1887

Louis L'Amour 1908 - Author

Wilfrid Brambell 1912

Karl Malden 1913 - Actor

Virginia Grey 1917

Ross Martin 1920

Werner Klemperer 1920

Marcel Marceau 1923 - Pantomimist

Bill Wendell 1924

Stephen Sondheim 1930 - Composer, lyricist

William Shatner 1931 - Actor

J.P. McCarthy 1933

M. Emmett Walsh 1935 - Actor

Glen Campbell 1936

Tom Flores 1937 - Football player

Johnny Ferguson 1937

Dave Keon 1940 - Hockey player

Bruno Ganz 1941

George Benson 1943 - Singer, musician

Keith Relf 1943 - Musician (Yardbirds)

Jeremy Clyde 1944 - Actor, singer (Chad & Jeremy)

Harry Vanda 1947 - Musician (The Easybeats)

James Patterson 1947 - Author

Wolf Blitzer 1948 - liberal mouthpiece

Andrew Lloyd Webber 1948 - Composer

Randy Hobbs 1948 - Musician (The McCoys)

Bob Costas 1952 - Sportscaster

James House 1955 - Country singer

Lena Olin 1955 - Actress ("Alias")

Stephani Mills 1957 - Actress, singer

Matthew Modine 1959 - Actor

Marcus Camby 1974 - Basketball player

Cole Hauser 1975 - Actor

Kellie Williams 1976 - Actress

Reese Witherspoon 1976 - Actress ("American Psycho")

John Otto 1977 - Musician (Limp Bizkit)