mordacious
\mawr-DEY-shuhs\, adjective:
1. sharp or caustic in style, tone, etc.

2. biting or given to biting.
Mordacious came into English in the 1640s from the Latin word mordāx meaning "given to biting."
government is like a condom in that it allows for inflation, halts production, destroys subsequent generations, protects a bunch of pricks, and provides its constituents with a sense of security while they are actually being screwed.
Trivia
What—other than its enormous size—was unusual about the U.S. flag displayed in Lompoc, California, on the first Flag Day after the 2001 terrorist attack?
It was created with flowers—more than 400,000 red, white, and blue larkspur plants, each with four or five flower stems. The 740-by-390-foot proportionally accurate flag covered 6.65 acres. Its stars were 24 feet in diameter.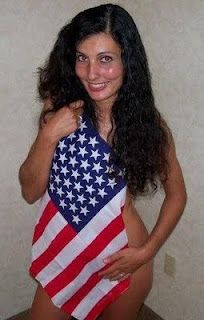 Munich: Benedictine monks founded the Bavarian city on the banks of the Isar River (1158)

US Army: was founded to fight the British (1775)

Bear Flag Revolt: the California Republic was declared by Sonoma settlers while California was still ruled by Mexico (1846)

UNIVAC I: the first commercial computer was dedicated at the US Census Bureau (1951)

Pledge of Allegiance: President Eisenhower signed the order inserting the words "under God" (1954)

Falkland Islands: military dispute ended as Argentine forces surrendered to the British (1982)
Harriet Beecher Stowe 1811

Don Newcombe 1926 - Baseball player

Marla Gibbs 1931 - Actress, producer

Muff Winwood 1943 - Musician (Spencer Davis Group)

Donald Trump 1946 - Real estate developer, television personality

Barry Melton 1947 - Musician (Country Joe and the Fish)

Alan White 1949 - Musician (Yes)

Eddie Mekka 1952 - Actor ("Laverne and Shirley")

Eric Heiden 1958 - Olympic gold-medal speed skater

Boy George (George O'Dowd) 1961 - Singer (Culture Club)

Chris DeGarmo 1963 - Musician (Queensryche)

Yasmine Bleeth 1968 - Actress ("Baywatch")

Steffi Graf 1969 - Tennis player

Traylor Howard 1971 - Actress ("Monk," "Two Guys and a Girl")

Diablo Cody 1978 - Screenwriter ("Juno")