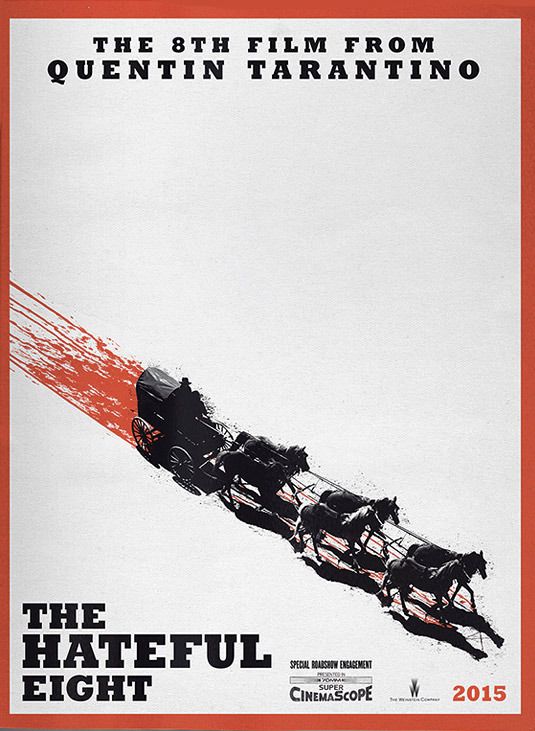 A bounty hunter finds himself surrounded by suspicious individuals while en route to bringing a prisoner in to hang.
It's not often that I get to view a movie before it hits theaters for the masses, so when I do I make sure to take advantage of the situation.
Filmed in 70mm, Quentin Tarantino has given us his eighth film. Eighth film? Hateful Eight? get it? He was looking to make a movie like the old Westerns when a character is introduced but you have no idea if they're good or bad until the end. Then multiplied it by EIGHT.
To me, this movie rolled more smoothly than what I consider a typical Tarantino flick. The introduction of characters and their development, or lack thereof, went very well. There was plenty of action and sharp language to keep the masses titillated. However, coming in at over two hours, I felt this movie was a bit bloated with egotism and indulgence. Probably the movie could've been slimmed down and made more aerodynamic with leaving out certain side stories. Then the ending struck me a plain sadistic porn.
No doubt the Tarantino fans will call this a conquest of the Western Genre by their favorite director, but I'll call it okay. It seemed too disturbing and the way it's gratuitously drenched in blood struck me like something a sixth grader going through his horror movie phase would put on a screen.
I wouldn't be surprised if this movie draws some people into the theaters, but it's not going to take down Star Wars. Or, at least, it shouldn't. Then again, maybe that's why they cowardly pushed back the opening a week, out of fear of being utterly destroyed?