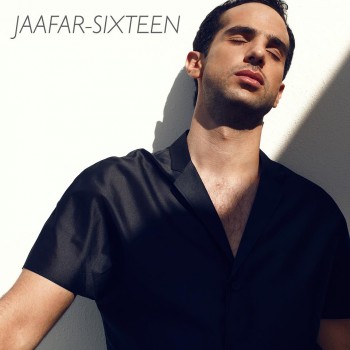 I recently had the opportunity to interview Jordanian music artist, Jaafar.
About Jaafar:
Jaafar is a singer, songwriter and producer from Jordan. Born and raised in the country's capital of Amman on November 9th 1990, he began attracting a following in 2013 after releasing his first single there. The song quickly garnered countrywide success and shot to the top of the charts. He followed up with an equally successful single the next year.




Jaafar has since been working on his much-anticipated album, 'Folktales of Spring.' In between recording sessions, he's been playing shows around the world, including exclusive performances at some of Los Angeles' most famed venues, The Roxy and The Fonda Theatres.




'Sixteen,' released in June 2015, is the first single off the album, and marks Jaafar's first brush with international success. With a release date initially set for fall 2015, it has been rescheduled to early 2016 due to the success of 'Sixteen' on American mainstream radio. His second single off the album 'Dalia' is expected to be released shortly before 'Folktales of Spring.'
When did you first start writing music?
I first started to write music in my late teens. I had dabbled in it before that but I feel like that was more learning to write than actually writing.
How did you choose your genre?
I never think of my own music in terms of genre, my music is very much a fusion of different genres. Rock, pop, world, flamenco, reggae...
Who were your influences?
I've always been inspired by artists of the Rai genre. The way they fuse east and west is seamless and beautiful. There are a lot of other artists I've been influenced by too from Sting to Sayed Darwish.
Did you ever take any formal music lessons?
Yes, but I didn't really start with formal lessons. I've taken them as I've grown to fine tune or further certain things.
Did your environment while growing up have an impact on the kind of music you make today?
Yes, It had all the influence in the world on it! Thematically and in terms of sounds, my home country, and that region in particular inspired this album in general.
Which of your works would you say is your favorite, so far?
That's hard to choose, but there is a song on 'Folktalkes of Spring' called 'Dalia' which I love because it inspired the rest of the album. While writing that song is when I feel like I found myself musically.
How did you come up with the name of the new album?
My understanding of a folktale is a story that comes to be by people passing it around, sort of like a myth, which more often that not have some element of untruth. The uprisings happening in the Middle East were dubbed the Arab Spring. I always felt that was a misnomer. What we are living, not only in that region, but around the world is a winter not a spring... and so the name 'Folktales of Spring'.
How do you feel about the impact of the Internet on the music business?
There are positives and negatives but I think for the most part the impact has been pretty bad. The good thing is that it gives everyone a platform, people who otherwise might not have been heard. Having said that, I think it has cheapened music in a way. It has also definitely saturated the market place with music that is not fully realized and pretty shallow.
Do you think major record labels are necessary any more?
Yes, I think they are but I think their roles will be different. The traditional record label module just doesn't work as well anymore, but artists still need to be invested in.
How do you normally write your songs?
Every song is different but for the most part my starting point is melody.
In your opinion, what does a good song need to consist of?
A great melody, meaningful lyrics and an inspired performance.
What song is most exciting to play live? Original and/or cover, please!
There's a song called Dalia on the album that is quite exciting to preform because it's just an epic production and the chorus is explosive. In the Middle of the Night is one that's also exciting because it's high energy and it's the most rock tinged of the songs on the album. Truthfully, even though the album is a cohesive body of work, every song has its own personality and has its moment on stage. They are different in terms of what they stir up in me while performing them, and that keeps me and the audience excited.
What cities have been your favorite to play?
At this point in my career, every city is my favorite to play because for the most part it's my first time performing in most cities. It's great when the audience in a new city knows of you and your music.
What do you think the best part of touring is?
I haven't been on a big tour yet in terms of night after night on the road playing full length sets. The plan is to take the show on the road once the album is released! That is my dream as an artist; my favorite part of this whole process is performing live.
What cities have had the best reception for your music outside of Jordan?
I recent played a show in Los Angeles at the Roxy, the reception there was pretty incredible. I wasn't expecting that turn out or that warm a reception to be honest.
Any words of wisdom for those with hopes of breaking into music?
Run for the hills! I'm joking, kind of.
What was the strangest thing to have happen while performing on stage?
I once accidentally turned my mic off, mid-song at a festival and didn't realize until I saw the crowds reaction. that's more embarrassing than strange though.
What is your biggest guilty pleasure?
If you could have a conversation with anyone, living or dead, who would it be?
I would've loved to have a conversation with Oum Kalthoum or one of the major tarab singers.
What has surprised you most in your career so far?
I always heard that the industry was full of people with bad intentions. What continues to surprise me is how to true that is.
Any hobbies outside of music? Sports, etc? Favorite teams?
My dad is a horse breeder, so I grew up around horses; I love all equestrian sports and have dabbled in most of them.
What word do you hate? What word do you love?
I hate the word politics. I love the word music.
What do you watch on tv?
What movies do you like?
I quite like watching documentaries; I recently saw the one on Senna and I though it was great, really well done. Runnin' down a dream is one of my favorites too; I love Tom Petty and the Heartbreakers.
Read any good books lately?
I'm reading the Arthurian Saga by Mary Stewart. I really enjoyed the first two books and I'm about to start the third. I think there are five books in the series.
Where do you live?
Currently, out of my suitcase.
For more information, please visit: