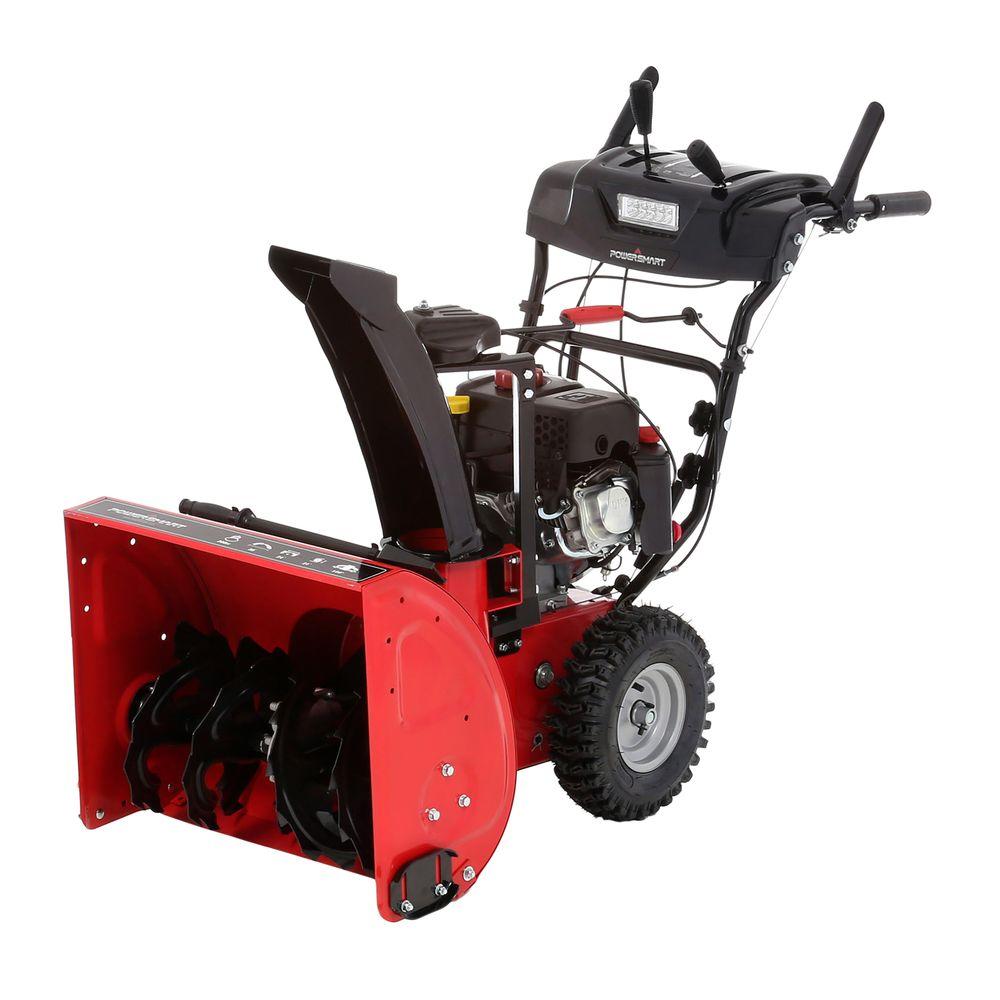 PowerSmart DB7103 Snow Thrower
This being a respectable home-owner thing has certain perks and drawbacks. Certainly among the biggest cons in the North East USA would be SNOW REMOVAL.When we first got the house in the suburbs, and when we were younger, we just felt that NY winters weren't terribly severe and that we could get by using the good old snow shovels. After a couple years that wore thin. We got an inexpensive Craftsman one-stage snow thrower. The trouble was that it wasn't self-powered, so I had to push and pull it all over the yard. That was fine for a little while, but that wore me out too. So I upgraded to a two-stage machine.
What's the difference from one-stage to two-stage snow throwers?
One-stage has one auger that picks up the snow and pushes it through the top.

Two-stage has two sets of mechanisms. One to pick up the snow from the ground which feeds it into a second that propels the snow through the top.

One-stage machines are usually lighter duty machines. Some may have forward and reverse gears, some are propelled by you. Two-stage machines tend to be bigger machines, and may have multiple forward and reverse gears. I am not an expert so there are likely more differences, but you can research that on your own.
I picked up this beast last year on sale from Home Depot for around $500 delivered. It arrived in a huge crate and weight so much that I wasn't sure how I was going to get it into the garage for assembly. The instructions were clear and to the point. I got it together and running in a short time.
Product Overview:
Clear snow like an absolute pro with the quick and reliable electric start functionality. The powerful headlight, versatile control panel, remote chute control and 180° chute rotation make your job simple. Its powerful Loncin engine will give you up to 30 ft. of throwing distance.

6.5 HP engine offers powerful snow-clearing action

Blower allows a snow clearing width of 24 in. and a clearing depth of 20 in. making it a perfect choice for regions receiving heavy snowfall

Versatile drive system allows 6-forward and 2-backward speed variations for enhanced driving convenience

12 in. serrated, all-steel augers pull snow into the blower unit to power through tough conditions

Self-propelled

Fitted with a 212cc, powerful snow engine, this 2-stage snow blower is perfect for use in extremely cold climates

180° chute rotation for better snow-blowing control

Push button electric start or manual starter

Track tires provide maximum traction

Safety override

Handle-mounted trigger controls makes turning, reversing and steering easy

13 in. inflatable tires deep snow tread bites into slippery terrain

Adjustable, metal skid shoes that enable alteration in height for easy use on varied surfaces
PowerSmart is a Chinese company so that was something of an explanation for the shockingly low price for this machine. It was substantially bigger than what I expected and looks more like something you'd use to clear a parking lot instead of one yard in a NYC suburb.
The first time I used it was under thick slush conditions. It did okay, but the tiny skids made it difficult to navigate without it getting caught on every uneven pavement surface and I snapped one screw in the process. I had to rethink this in order to make it more compatible with the environment in which it would be used.
I started doing research on how to modify the skids when I found this:
SBS Snowblower Skids
This guy already figured it out and solved the problem. These bigger, longer, wider skids distribute the weight better and makes it easier to got over those bumps and cracks in uneven pavement without wrecking your snow-removal investment.
Last week we got hit by a "Bomb Cyclone" or a "Winter Hurricane" or whatever colorful names they made up for it. My area was supposed to get 6-12 inches of snow. I ended up heaving to deal with snow drifts of two feet or more for most of my driveway. The combination of the snowblower at the beginning with the SBS Snowblower Skids made the job relatively easy. The machine did its job properly without getting jammed up by uneven pavement. SBS has many specifically designed skids for various applications. If they don't make one for your machine, they have several universal types that should do the trick. I tried one of the universal sets and it fit perfectly.
I was thoroughly pleased with how the two performed together. Now I have one less thing to worry about.
http://snowblowerskids.com/