antipathetic
\an-ti-puh-THET-ik\, adjective:
Opposed, averse, or contrary; having or showing antipathy: They were antipathetic to many of the proposed changes .

Causing or likely to cause antipathy: The new management was antipathetic to all of us.
Antipathetic stems from the Greek root pathos which meant "suffering, sensation." The Greek word antipathḗs meant "opposed in feeling."
Getting too ambitious with a girl after getting to second base, getting subsequently denied when reaching out for third
I rounded second a bit too hard and got denied at third. Talk about reaching on a double!
Trivia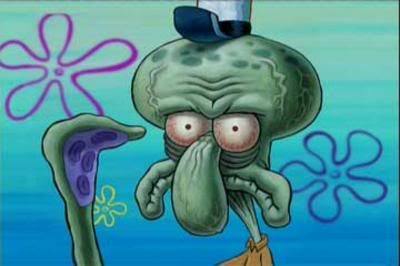 What is anatomically incorrect about Squidward, the grouchy octopus in TV's SpongeBob SquarePants kiddie cartoon series?
He has only six tentacles, not the eight common to the octopus. The show's animators thought he would look too bulky with eight legs.
History
United Artists: US film company was founded by Charlie Chaplin, Mary Pickford, Douglas Fairbanks and D.W. Griffith; a current version of the studio is owned, in part, by Tom Cruise (1919)

Reader's Digest: DeWittand Lila Wallace published their first issue of condensed articles; the pocket-sized volume cost 25 cents (1922)

BBC pips: six short tones used to mark the end of the hour were broadcast for the first time from the Royal Greenwich Observatory (1924)

Tybee bomb: the US lost a hydrogen bomb off the coast of Georgia; some 14 nuclear weapons are known to be missing from the US arsenal alone (1958)

Kelly Ripa

became Regis Philbin's cohost. The show was renamed to "Live! With Regis and Kelly." (2001)
Birthdays
John Jeffries 1744

Robert Peel 1788

Felix Mendelssohn 1809

John Boyd Dunlop 1840

Belle Starr 1848

Andre-Gustave Citroen 1878

Adlai Stevenson 1900

John Carradine 1906

William Burroughs 1914

Andrew Greeley 1928

Hal Blaine 1929

Don Goldie 1930

Claude King 1933

Henry "Hank" Aaron 1934

Stuart Damon 1937

Jane Bryant Quint 1937

Cory Wells (Three Dog Night) 1942

Charles Winfield (Blood, Sweat & Tears) 1944

Charlotte Rampling 1946

Barbara Hershey 1948

Christopher Guest 1948

Nigel Olsson (Elton John) 1949

Duff McKagan (Guns 'N Roses) 1964

Chris Baron (Spin Doctors) 1968

Michael Sheen 1969 (Lucian from Underworld)