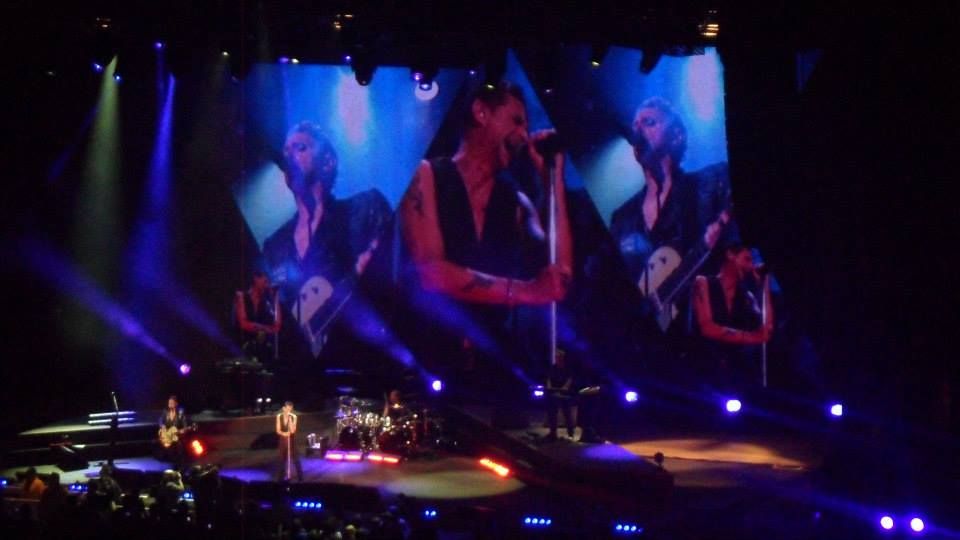 Pic by Mrs Bax0jayz
In a strange world where you can score tixx for totally happening concerts on GROUPON, we got to see Depeche Mode at NIKON at Jones Beach Theater unbelievably cheaply.
Earlier in this tour for DELTA MACHINE tickets to see Depeche Mode were $200+ so I passed when they were in town. However, last week, GROUPON sold a block of tixx for drastically reduced prices. We've seen DM two or three times in the past and figured, why not?
Why not, indeed. We were in row WW in section 4R which DOESN'T EXIST. They had to bring out folding chairs on the top of the landing for a bunch of people, us included. Guess what? It wasn't so bad. The seats were padded, had more elbow and leg room than the other seats in the section while being shielded from the breeze off of Jones Beach.
We totally missed the opening act. No idea who they were. We got there around 7:30 and they they were already off stage. We parked as close as we could which was still pretty damned far away. DM didn't hit the stage until around 8:15. They played for a good hour and a half using their regular formula. They play a bunch of songs and Martin Gore gets his set. It was a bit of a let down seeing Martin looking like his own grandmother when he used to the face man of the band. It kinda seemed that the set list was heavy towards the new material, but they ARE supporting a new record so you can't complain about that. They DID sprinkle in a bunch of old favorites... Behind the wheel. Shake the Disease. Personal Jesus. Enjoy the silence. ...to name a few.
They were pretty together, but I had a feeling that something wasn't right. The levels were askew. The mix seemed very muddy until I put in my earplugs, then I could really tell how muddy it truly was. Signature riffs were stuck in the glut of amplified sound being poured out of the speakers. It was enjoyable, regardless, but the mix needed to be tweaked for sure.
I would say that the show was still a ton of fun despite Groupon's mistakes and the mix. Gotta love the 80s bands enduring in a music world filled with no-talents.