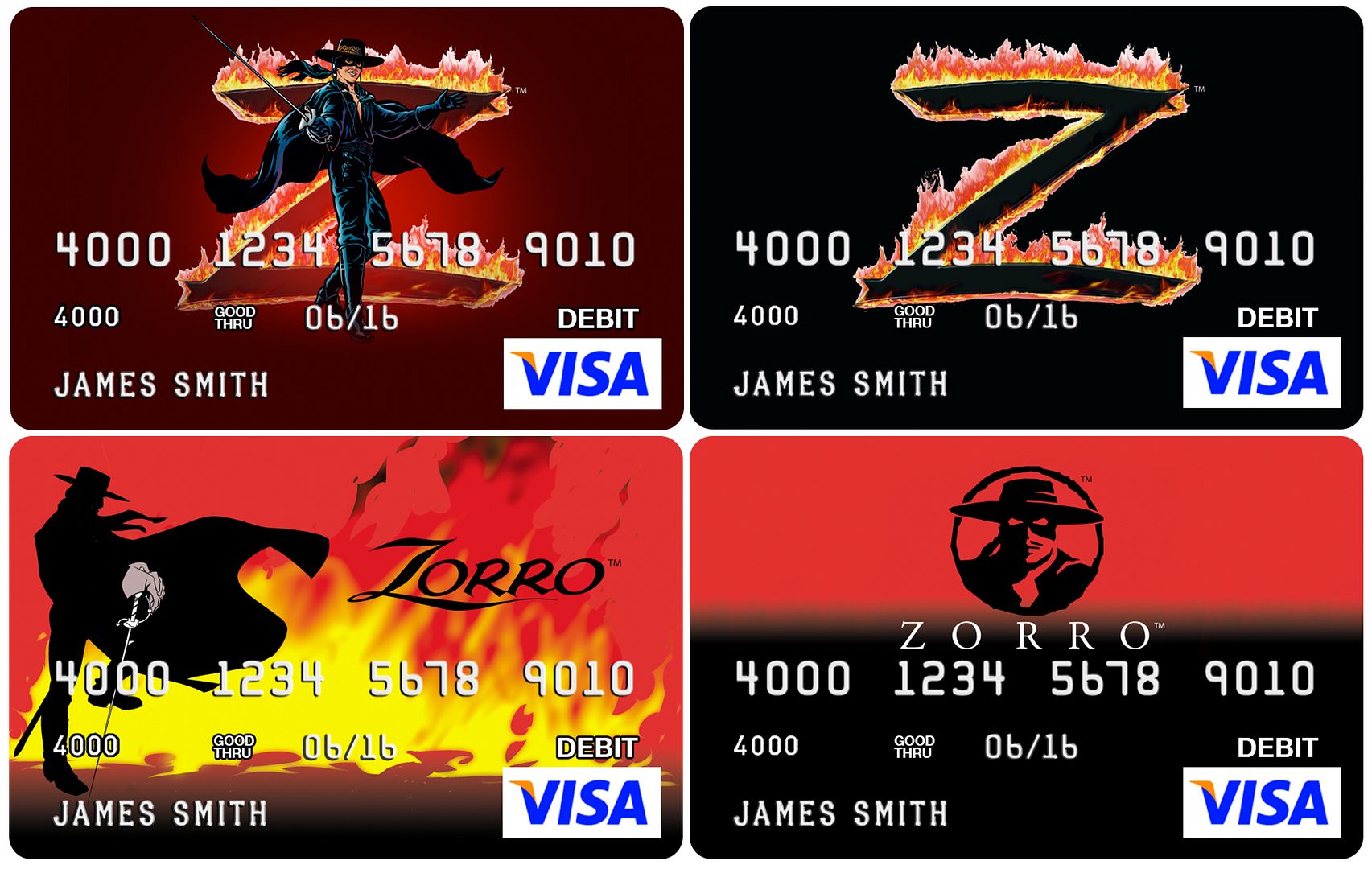 It's not too often that you get an invitation to try out a debit card, so when this opportunity presented itself, I went for it. The ZORRO Card!
The application process is easy.
You simply go HERE

Choose a design. (I chose the burning Z pictured above.)

Fill out some basic information

DONE!
It arrives very quickly, within DAYS. At that point you just have to activate it, which is simply done online, and link up a bank account so you can load up some cash on it. Ready to roll!
Here are just some fun facts we'd like to share, for more information on the product:

This is a debit card, like the one from your bank, and you can use it EVERYWHERE Visa is accepted -- except it's way cooler and cuter than your crumby old bank card.
Free to order, activate and load
Free app and check deposits from your smartphone
Free direct deposit
Free card-to-card transfers, any time, anywhere, in seconds
No overdraft fees -- never goes negative!
Safer than cash - 24/7 support, Visa fraud protection and 100% FDIC insurance on funds
No debt, financially responsible, no interest/credit/APRs
No credit check and approval in seconds
22,000 in-network ATMs
Thousands of cool, unique card designs to choose from, including brands like: Garfield, Popeye, Betty Paige, James Dean, Care Bears, Walking Dead, Star Trek, Autism Awareness, Breast Cancer Research, Shark Week, Where's Waldo, Doodle Jump, Three Stooges, Nancy Drew, etc.
This card is not a gift card, so you can't give or receive the card as a gift - It's better than a gift card because you don't just use it once and toss it, but instead get to replace your boring bank-issued debit card and show it off over and over.
Free for 30 days - then $5.95 monthly fee, which we waive when you direct deposit over $800 in the previous 30 days. This fee is the same as the Walmart prepaid card and way less than many of our competitors. It's also much less than overdrafting your bank account, paying for a checking account or using a credit card.
Sign up
here
:
http://bit.ly/1dZRmdt