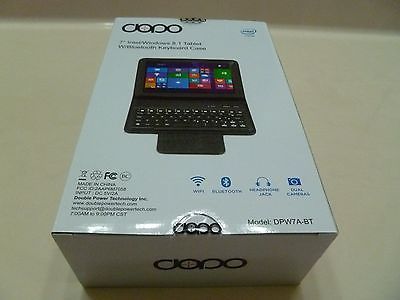 pic: cred to ou
DOPO
In recent years I got a Microsoft Surface Pro and a Windows Phone and was happy with both. Next I thought I'd try a Windows tablet. When the DOPO DPW7A-BT showed up at Tiger Direct for under $40 after a rebate, it was a good opportunity to give one a try.
Tablet/Media Players specs:
Platform Windows with Windows 8.1 installed

Screen Size 7" with Display Resolution of 1024 x 600

CPU 1.3GHz (Max Speed 1.83GHz) Intel Quad Core Processor

Memory Capacity 1GB

Bluetooth

Micro USB Port

Storage Capacity 32GB

Touch Screen Type Capacitive
Tablet Specifications
Storage Expandable Up to 64GB with MicroSD

Cameras Included 2 - Front & Rear

Back Camera 2.0 MP

Front Camera 0.3 MP

Bluetooth Connectivity with BT Keyboard included
This device immediately struck me as a mini Surface. It is a miniature PC with the ability to be used as a tablet. It starts up quickly and shuts down fast. It's a FULLY functional Windows 8.1, but with the offer to upgrade to Win 10 for free, why not? I tried ti out with both operating systems and was happy with the performance.
Keep in mind, this is designed to be an INTERNET TABLET. If you want to use this for high-powered applications, you might be disappointed.
I downloaded and installed the Chrome and Mozilla browsers and they worked just fine.
I have also tested out Microsoft Office, Google Docs and even TURBOTAX on this device with satisfactory results. The Bluetooth keyboard it comes with is small, but gets the job done.
The touch screen works nicely, but for some applications the screen is too small to navigate with your fingers. You can use an adapter to use a USB mouse, which I tried and had no problem with or a Bluetooth which also was detected easily and worked without issue.
The hard drive is 32 gigs, which is impressive for most tablets, but when you're dealing with the Windows operating system, the space gets devoured quickly. The tablet has a MicroSD port that can accommodate up to 64 gigs. That's enough to do pretty much anything you'd need to on a tablet. Additionally, you can use a USB adapter in the Micro USB port for your thumb drives. I tested out up to 128 gigs in there without issue.
Since it's a full Win10, it can sync with your One Drive across other devices, syncing downloads, Outlook, etc.
I have only played around with the cameras a little bit. They seem to work, but I have not had the ambition to test out the quality of the photographs they take. The rez is fairly low so I don't have a lot of faith in their capabilities.
I tried to play DREDD on this tablet, but could never get it to work right. The rez just wouldn't line up for it to work and I couldn't get to the settings to fix it, so I gave up on that.

All in all, I was very impressed with this device. It did everything I hoped it would. It's a nice device to bring with you on vacation so you can check email or browse the web, or work on a document. It handles all that stuff like a champ.
Now I'm curious about the other versions!
This is where I found it on
TIGERDIRECT
.