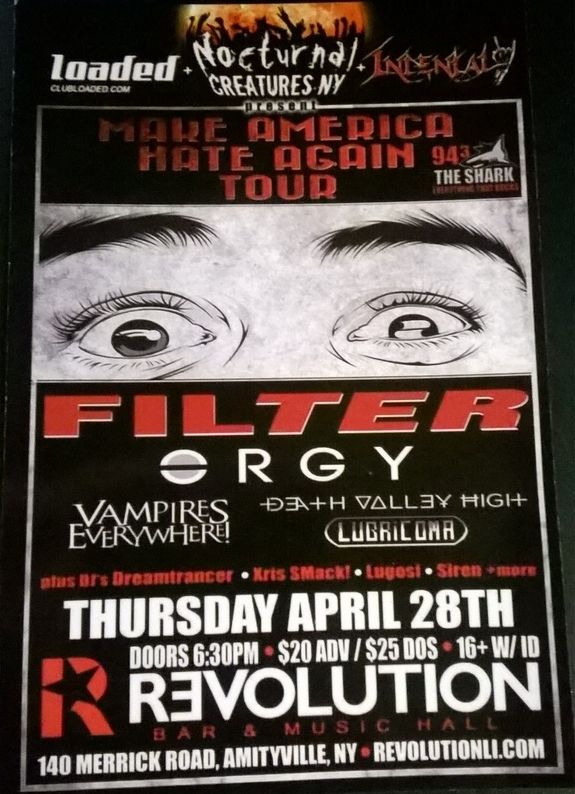 MAKE AMERICA HATE AGAIN TOUR
When I heard that FILTER was on tour and playing out on Long Island for only $20, I couldn't resist!
Revolution is more of a bar than a music hall. It's about as small and intimate as a show can get. I have played places bigger than this and we never had platinum records!
So we arrived around 6:45. The first act, I am assuming, was LUBRICOMA. They just looked like local guys who played covers and performed a nice set. They were followed by two major emo bands called VAMPIRES EVERYWHERE and DEATH VALLEY HIGH. To me there was very little difference from to the next. They both did the pale skin, black ma

ke

-up, and black clothes thing. Both

acts

sounded like Marilyn

M

anson cover bands. The only detail

I

remember that distinguished one band from the other was at the end of the DEATH VALLEY HIGH set, they tried to get the crowd to come to them and chant

the band's name. It was a little sad when all of about four kids stepped up for the chant.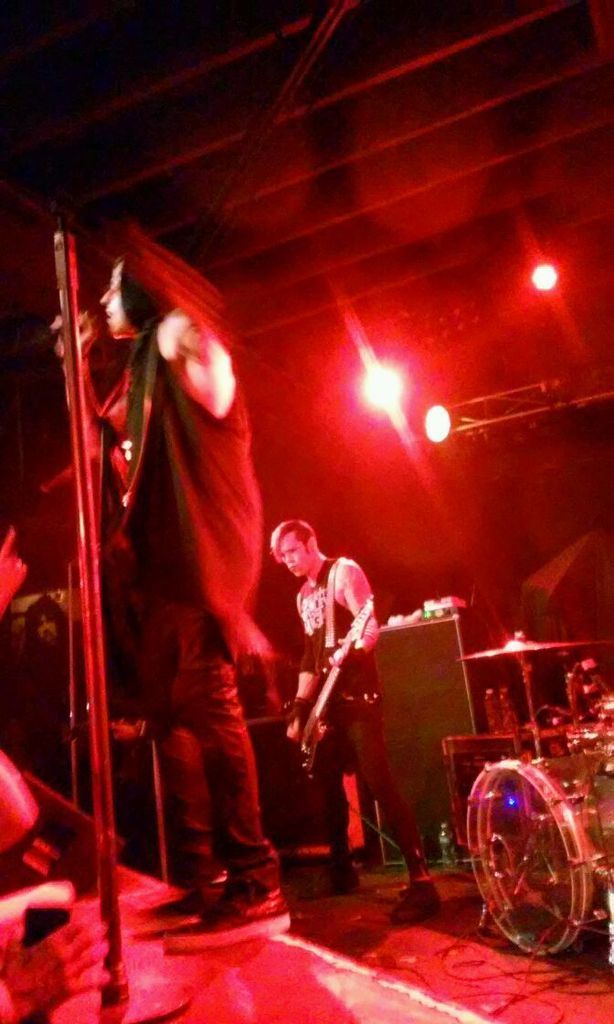 Orgy went on during the 9:00 hour. I only knew a couple of their songs, so I really wasn't expecting much from them. Hell, I was I just expecting more of the same as the previous two bands. I was

pleasantly

surprised. They put on a fun rock show. They performed a good set, got the crowd involved,

and had a good time despite seeming to start off with some sort of sound troubles.
F

ILTER

took the stage just after 10:30. They had some smoke and lighting effects as well as minor visuals.
Richard Patrick notified the audience that we all needed to bring more people to the shows so they c

ould tour with fewer bands

, therein

allowing them more time to perform.
The actual set list that was peeled up from the floor after the show:
Filter is now a new band. After Richard's stint in ARMY OF ANYONE he fired everyone in Filter and has a new crew. On stage was a drummer, a hot chick playing bass, a guitarist, Richard, and a fifth member who looked like Rober

t Downey Jr who did everything: guits, k

eys, effects, loops, sequencing, vox, sound and vapes. I wonder if he even swept the stage after the show!
In a small venue, it's too easy to over-amplify, but FILTER had an amazing mix and you could hear every note perfectly. If anything, Richard's vocals seemed a little low, but generally the

y sounded great.
Richard also comes off as a pretty cool guy. Several times during the show he grabbed people's phones and took close-ups of the entire band for the fan. He even answered on dude's phone call! Considering Richard came from NIN, he is the opposite sort of performer that Trent is. He

actually

embraces and adores his fans! More evidence would be that they performed for nearly two full hours, and the place was closed down at around 12:35 AM due to a fire alarm going off. I d

idn't get home until nearly 2 AM!
In conclusion, for $20 I got one HELL of a show! Glad I went

and

didn't mind the sleep I lost over it!